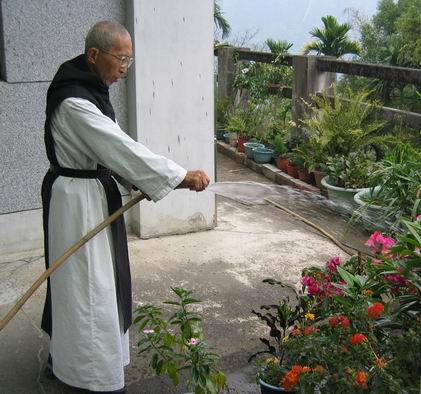 3. Manual Labor
Manual Labor is defined as physical or mental effort exerted to do or make something; as purposeful activity; as a work in which one¡¦s knowledge and skills are utilized.
The Desert Christians of the 3rd, 4th, and 5th centuries, in Egypt, Syria, and Palestine, manifested a healthy and deeply insightful appreciation of work. One of the great wisdom figures of this Desert tradition was St. Antony (251¡V356), who, though obviously valuing manual labor, linked it with the important work of meditation and prayer.
¡@
Among the wisdom sayings associated with St. Antony is one in which he advises: ¡§When you sit in your cell, be perpetually solicitous of these three things, namely, the work of your hands, the meditation of your psalms, and prayer.¡¨
¡@
In the Benedictine monastic tradition, the prayer of the monks was called the Opus Dei, meaning, ¡§the Work of God.¡¨ This prayer of praise to God throughout the day and night was considered the chief work of the monks, as well as the place where God worked on the monks themselves. Within this context of individual prayer and communal singing of the Divine Office, manual labor and intellectual activities formed an overall rhythm of life in the monastery. The Rule of St. Benedict affirms a basic tenet regarding work from Christianity¡¦s earliest days: ¡§Work is an important antidote to idleness.¡¨ As the Rule expresses it: ¡§Idleness is the enemy of the soul. Therefore, the brothers should have specified periods for manual labor as well as for prayerful reading¡¨ (RB 48:1). The Rule of St. Benedict offers an example of a Christian spirituality that sees work, prayer, study, and contemplation as intertwined, all directed to praising God. It also contains a guiding principle that eventually made Benedictine spirituality one of the most popular of the Middle Ages and from which we might learn: ¡§All things are to be done with moderation ¡K¡¨ (RB 48:9), including one¡¦s work.
At the monastery of Shuili, we carry out various types of work. You will find us working in our orchard, library, kitchen, retreat house and so on. We support ourselves and improve our circumstances through the work of our hands.