Holy Mother of God Monastery
The Trappist Monastery, at Shuili, Taiwan, is a Catholic Christian monastery that belongs to the Order of Cistercians of the Strict Observance. The monks live a contemplative life, serving God according to the Rule of St. Benedict and follow Cistercian tradition.
¡@

The Monastery is named after Mary, the Holy Mother of God. It is located in the hills near the town of Shuili and is 500 meters above sea level. It commands a panoramic view of Shuili and is surrounded by five mountain ranges and three valleys. When viewed from the guesthouse, one sees the monastery with its grey walls and Chinese red title roof as an ethereal land in the sky. It has a pleasing and dignified blend of Chinese traditional architecture and Cistercian simplicity and harmonizes well with the vision and hope of this Foundation for the Chinese people of this area.

¡@
---
The monastery began in 1984 when two members, Fr. Clement Kong of Our Lady of Joy Abbey, Hong Kong, and Br. Regis King of New Clairvaux Abbey, Vina, USA, came looking for land to build a monastery and a spiritual way of life for the people here.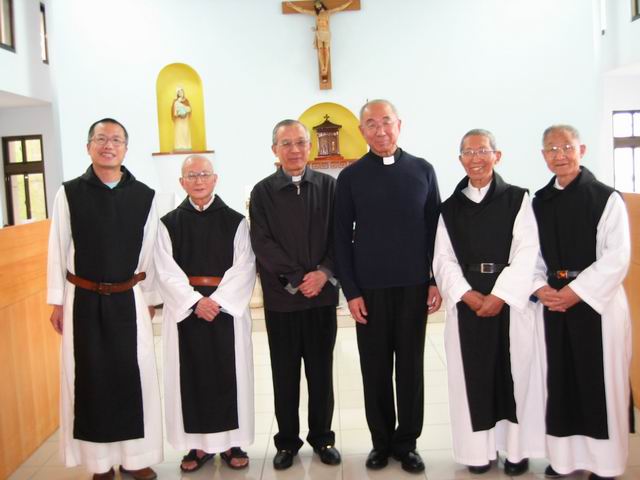 Bishop Wong of Taichung with our members (from left to right)
Fr. Paul Kao, Fr. Francis, Bishop Wong of Taichung, Bishop Wang of San Franciso ( visitor), Fr. Raphael, Fr. Maurus (not shown)
---